Blue Wackidoo Slurpy Machine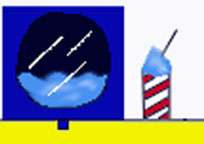 MMMM! Nothing like a Blue Wackidoo Slurpy to bring cool to a hot summer day, right? Well, now you can make your own in the comfort of your kitchen, thanks to SSN's Blue Wackidoo Slurpy Machine. Just add ice, sugar, and blue food coloring and you've got yourself a tasty treat in a matter of minutes!
WAS: $29.99 NOW: $15.99

Return to product menu.
Famous Anus Expansion Ointment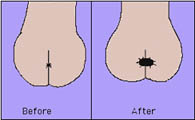 Are large turds lodging themselves in your anus when you defecate? Is anal sex too uncomfortable? Now there's a solution: SSN's Famous Anus Expansion Ointment. Just a pea-sized amount expands your anus to a full FOUR inches in diameter, making defecation and/or anal sex a breeze. Bet your ass, you'll love it!
TUBE: $2.00 CASE: $22.95

Lickity Split Assorted Flavored Condoms for Oral Sex
You want to be safe during oral sex by using a condom, but you end up sorry when the taste of latex hits your palate! That's why SSN came up with these tasty protective alternatives. Available in Cha Cha Cherry, Bigtime Banana, Orgasmic Orange, Lay-me Lemon, Gotta-have-it Grape, Hottest Fudge, Virgin Vanilla, Rhubarb, and for the especially health-conscious, Tofu! Please specify size when ordering: Teeny Wiener, Perky Peter, or Giant Johnson.
BOX: $4.95 BY THE GROCE: $20.95
Amy & Steph Blow-Up Dolls For After-Hours Fun!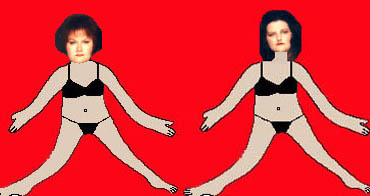 Ever fantasized about having sex with America's Scumqueens? Who hasn't! Now that fantasy can come true--sort of!--with these amazing new lifelike blow up dolls made from 100% leak-proof vinyl and vulcanized rubber. Act now. These dolls are flying off the shelves! Please specify small or large mouth version when ordering.
AMY AND STEPH BLOW-UP DOLL: $50.00 each
Steamy Curls Pubic Hair Rollers


Ever wish you could have that just-permed look porn stars' bushes have? Now, you, too, can have bouncin' and behavin' bush hair with SSN's Steamy Curls Pubic Hair Rollers. Each sponge-covered roller measures only 1/2 inch in length to assure the tightest curls. Comes with small steaming unit which holds one cup distilled water. Order today...And wow your partner tomorrow!
WAS: $35.99 NOW: $25.99
Coy-Tilt Beaver Trimmer and Muff Design Maker
It's a trimmer! It's a design maker! It's like nothing you've ever seen! Yes, SSN has done it again, partnering with lawn and garden gurus Coy-Tilt to create this fabulous, innovative pubic hair grooming system. Not only does the Coy-Tilt Beaver Trimmer trim up those straggly pubes on both women AND men, it also comes with a patented teflon-coated stencil kit to buzz beautiful designs and/or cute messages in your muff. REALLY say "Ho! Ho! Ho!" at Christmas with the adorable Santa Claus stencil, or give your mate a true Halloween treat with the jack o'lantern stencil. The kit also includes the letters of the alphabet, so you can spell out "Happy Birthday!" or "Sorry about your test results" in your beaver with ease. Act now and we'll include Lincoln's Gettysburg Address stencil at now additional charge!
COY-TILT BEAVER TRIMMER AND MUFF DESIGN MAKER: $29.95.
"I Can't Believe It's Not Fungus!" Press-On Nails

Depressed because all of your redneck friends have the glamorous look of fungus-laden nails and you don't? Well, stop rubbing your fingers against your gym's shower mats! SSN is proud to introduce "I Can't Believe It's Not Fungus!" Press-on Nails. So authentically yellow, brittle, and peeled, your manicurist won't even be able to tell the difference! Order now and receive a free box of "I Can't Believe It's Not Fungus!" Press-on Toenails.
ONE BOX : $4.00
Bottle O' Blackhead


Are you a teen whose crystal clear complexion prevents you from joining the geek crowd at school? Or are you an adult longing for the youthful glow produced by oily, clogged pores? Here's your solution: Bottle O'Blackhead Instant Blackhead Inducer. Made from the pure blackhead-forming oil and bacteria of America's scummiest teens. Simply pour a dime-sized amount into your palm, rub your fingertips into it, and massage onto face at bedtime. Massive results in just six hours! Order today and we'll send as our free gift to you, your choice of Bucket O' Boils or Carton O' Carbuncle.
BOTTLE O' BLACKHEAD: $5.95
Crack Attack! Butt Scratcher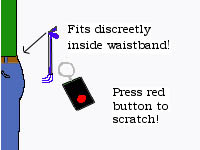 Out in public with an annoying butt itch, but don't want to embarrass yourself or your loved ones by scratching? Get SSN's new Crack Attack! Butt Scratcher. This innovative, forked device clips discreetly onto the waistline inside your pants' or skirt's backside. Press the handy remote control button on your Crack Attack! keychain, and scratch that itch away!
CRACK ATTACK! BUTT SCRATCHER: $30.00
Varmint, the Turbo-Charged Highway Scooter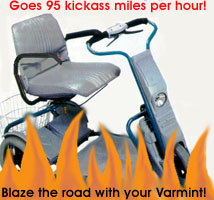 Alas, our really fat or otherwise immobile friends! You've seen those TV ads for wussy scooters with maximum speeds of only 15 mph, right? What good are those when you can have the Varmint Turbo-charged Highway Scooter. That's right! Now you can easily shop in your favorite stores AND floor it on the highway with a top speed of 95 mph! This ain't your Grandma's scooter--but it can be! Order one today for the amazingly low SSN price of $200.00.
POW! America's Favorite Fart Lighter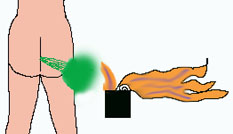 Picture this: You're at a Frat party, drunk off your ass. You decide to impress your pals by lighting a fart. You position yourself. You can feel the gas easing steadily into your colon. You let a big one fly, flick your bic, and *DUD*--a measly two-inch flame. Don't let this happen to you! Get POW! America's Favorite Fart Lighter. Slightly larger than a Zippo, POW!s two butane-filled chambers, along with a special patented "pre-gassed" methane chamber, produce monstrous flames up to ten feet long (depending on the fart)! Great for parties, luaus, and Fourth of July Celebrations. You can even roast marshmallows and weenies! Get one today.
POW! AMERICA'S FAVORITE FART LIGHTER: $10.00
White-Be-Damned Teeth-Rottening Toothpaste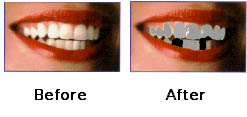 Do your pearly whites make you stand out like a sore thumb at family reunions? Or are you just plain sick and tired of the blinding glare caused by that perfect suburban smile? Enough already! Say "White-be-damned!" with SSN's White-be-damned Teeth Rottening Toothpaste. Step One: Order a tube. Step two: Upon arrival to your mobile home, mark the date on your calendar. Step Three: In just two weeks, you'll notice a marked difference..Your teeth will turn four shades grayer! Plus, the painful ache of cavities will tell you that White-be-damned is working. Made from 100% pure cane sugar and chocolate, it makes brushing a truly delectable taste treat, too! When it comes to YOUR teeth, White-be damned!--so order yours today!
ONE TUBE: $2.50 THREE TUBES: $7.00
Bodacious Bone Penile Enhancement Spray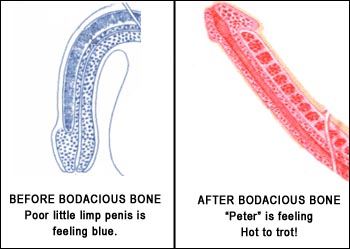 Is your partner getting bored with that limp noodle you call a penis? Better still, do YOU wish for a more delightful dong? Well, giddy up with SSN's new Bodacious Bone Penile Enhancement Spray! Just two quick sprays prior to intercourse will return your manhood to its pubescent glory days. Stop envying the others--get a bone of your own today!
PENILE ENHANCEMENT SPRAY: $10.00
VagiVice Muscle Contracting Cream For Loose Women
Childbirth left you loose as a goose? Or were you a slut in the days of yore? Whip those flabby PC muscles into shape instantly with SSN's Vagi-Vice Muscle Contracting Cream for Loose Women. Just a dollop a day will give those oh-so-important muscles their pre-promiscuity and/or pre-childbirth vice grip!
ONE TUBE: $5.00 THREE TUBES: $13.50